Impact des changements environnementaux sur les organismes et communautés benthiques et pélagiques
Since my CNRS integration in 2009, my research activities have revolved around two main research themes: 1) the impact of environmental changes on bivalves of commercial interest and 2) the environmental control of planktonic and benthic communities in the Mediterranean Sea. My work on bivalves has been innovative in several respects (original experimental approach, long-term experiment, consideration of several factors of environmental change, effort to synthesize existing studies) and place me among the international experts on this theme of research. Studying the response of planktonic and benthic communities to changes in the environment provided an opportunity to develop various experimental tools used either directly in the natural environment or at proximity in mobile containers. These tools have enabled me to conduct and promote research in collaboration with many international colleagues and the recent developments provided me with an important technological base for the rest of my career. In the future, a significant part of my research activity will take place within the framework of the CocoriCO2 project aimed at estimating the future of shellfish farming on the French coast. Following this project focused mainly on the assessment of the sensitivity of ecosystems (observation) and the sensitivity of species (experimental) to environmental changes, I aim to test different remediation techniques to limit the effects of acidification. on bivalve molluscs. I would like to continue my research effort on the environmental control of the functioning of planktonic and benthic communities through ongoing research projects, submitted or under consideration. I propose a multi-factorial approach based on a combination of different experimental techniques.
Depuis mon intégration au CNRS en 2009, mes activités de recherche se sont articulées autour de deux principales thématiques de recherche : 1) l'impact des changements environnementaux sur les bivalves d'intérêt commercial et 2) le contrôle environnemental des communautés planctoniques et benthiques en Mer Méditerranée. Mes travaux sur les bivalves ont été novateurs à plusieurs égards (approche expérimentale originale, expérience sur le long-terme, prise en compte de plusieurs facteurs du changement environnemental, effort de synthèse des études existantes) et me placent parmi les experts internationaux sur cette thématique de recherche. L'étude de la réponse des communautés planctoniques et benthiques aux modifications du milieu a été l'occasion de développer divers outils expérimentaux utilisés que ce soit directement dans le milieu naturel ou à proximité de celui-ci dans des containers aménagés. Ces outils m'ont permis de mener et valoriser des recherches en collaboration avec de nombreux collègues internationaux et les récents développements opérés m'assurent un socle technologique important pour la suite de ma carrière. À l'avenir, une part importante de mon activité de recherche se déroulera dans le cadre du projet CocoriCO2 (FEAMP) visant à estimer le devenir de la conchyliculture sur le littoral français. À la suite de ce projet axé principalement sur l'évaluation de la sensibilité des écosystèmes (observation) et de la sensibilité des espèces (expérimental) aux changements environnementaux, j'ambitionne de tester différentes techniques de remédiation pour limiter les effets de l'acidification sur les mollusques bivalves. Je souhaite poursuivre mon effort de recherche sur le contrôle environnemental du fonctionnement des communautés planctoniques et benthiques par le biais de projets de recherche en cours, soumis ou en réflexion. Je propose une approche multi-factorielle basée sur une combinaison de différentes techniques expérimentales.
Fichier principal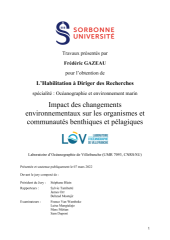 HDR_GAZEAU.pdf (23.73 Mo)
Télécharger le fichier
Origin : Files produced by the author(s)